THE AGORA CORSI COPPINI MUSEUM – MUSEUM OF THE ART OF OIL MAKING
Our territory is important to us. Therefore in 2009 we created the Museum Agorà Orsi Coppini - Ark of Culture , a Museum of Olive Art set up in a former dairy of the 1800s for the production of Parmigiano Reggiano , recovered with conservative restoration.
The Agorà Orsi Coppini Museum finally brings the olive tree back to the Parma area, an area that has always been dedicated to agri-food, where it takes shape from an idea- world that associates cultivating with knowing, love for nature with love for knowledge and for man. A Museum that shows our passion for the olive tree , the sacred tree in all civilizations, a symbol of peace and dialogue, a source of sustenance, flavor, care for the body and spirit, light.
"Knowing to love", thus was born the idea of ​​the Coppini family to spread the knowledge of a product and a world that is art, Arte Olearia Precisely, whose aura illuminates history, from the most ancient mythology to the present day. The peoples of the Mediterranean have also acquired civilization thanks to olive oil . Our task is to convey this culture. Italy is a country founded on oil : the very symbol of the Italian Republic is an olive branch . And different religions have based their expressive power on oil and olive tree .
The Podere Fieniletto , l ancient dairy for Parmigiano Reggiano, and the Food Valley become sets for a new art, which returns here from the distant 12th century with an emotional journey in which extra virgin olive oil becomes logos, word , a culture that can be savored and translates the knowledge of generations into direct experience.
AGORÀ AMONG THE OLIVE TREES
The agora can seat up to 500 people, on three tiers of steps, an open-air theater in a natural park, one of a kind in a truly vast area, equipped with more new technologies and services, for round tables, conferences, concerts, shows and events, even of the highest level. A place to share with our Valuers the love for beauty, art and culture; a workshop of meetings, to get to know more and more and better the Estimatori dell'Extravergine al t.o.p. (Traceability of Product Origin).
A place of sharing, therefore, but also a forge of ideas for the fight against mediocrity and food sophistication, a stage from which to launch new proposals or new events that can nourish the mind and spirit. Here is what we expect from this privileged and truly unique space.
This is where the awarding of the winners of the " The Silver Tree for Quality in the Arts " organized by the Coppini family in scope of the project "Feeding the planet" of art and culture.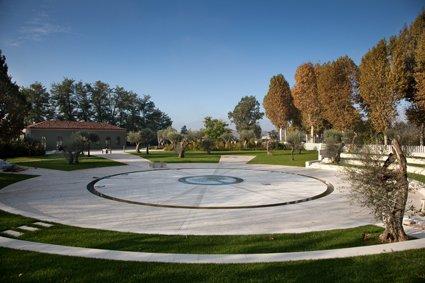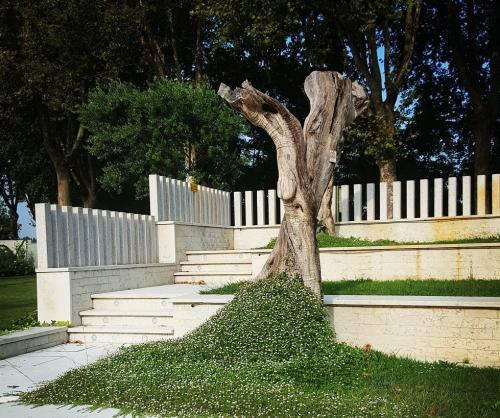 CONFERENCE ROOM
Inside the Museum there is a conference room with about 100 seats, furnished with padded armchairs built with environmental sustainability criteria, in 100 recyclable material %. The room acoustics have been studied by qualified professionals in order to optimize listening to conferences, projections or lessons, allowing speakers to choose whether or not to use the amplification system.
Equipped with < strong> best audio-video technologies and any possibility of recording, transmission, online interactivity and videoconferencing, managed with the direct support of the University of Modena and Reggio Emilia, represents a service of excellence and avant-garde for conventions, seminars, conferences, cooking classes in an unusual, natural environment but at the same time equipped with every comfort, service and technology.
HOURS AND CONTACTS
Free guided tour on Saturdays and Sundays from 10.00 to 13.00 and from 15.00 to 18.00; Monday to Friday between 10.00 and 18.00. Reservations are required for all visits in order to ensure compliance with the anti Covid-19 regulations. The structure is accessible and equipped for visitors with motor disabilities.
Book your visit by calling us at 0521 877627 or contact us via WhatsApp at 340 1541307
For information you can write to us at e-mail: museo@coppini.it
To reach us
Via Bruno Ferrari, 3 San Secondo Parmense (PR).
GPS : 44.918113,10.225077