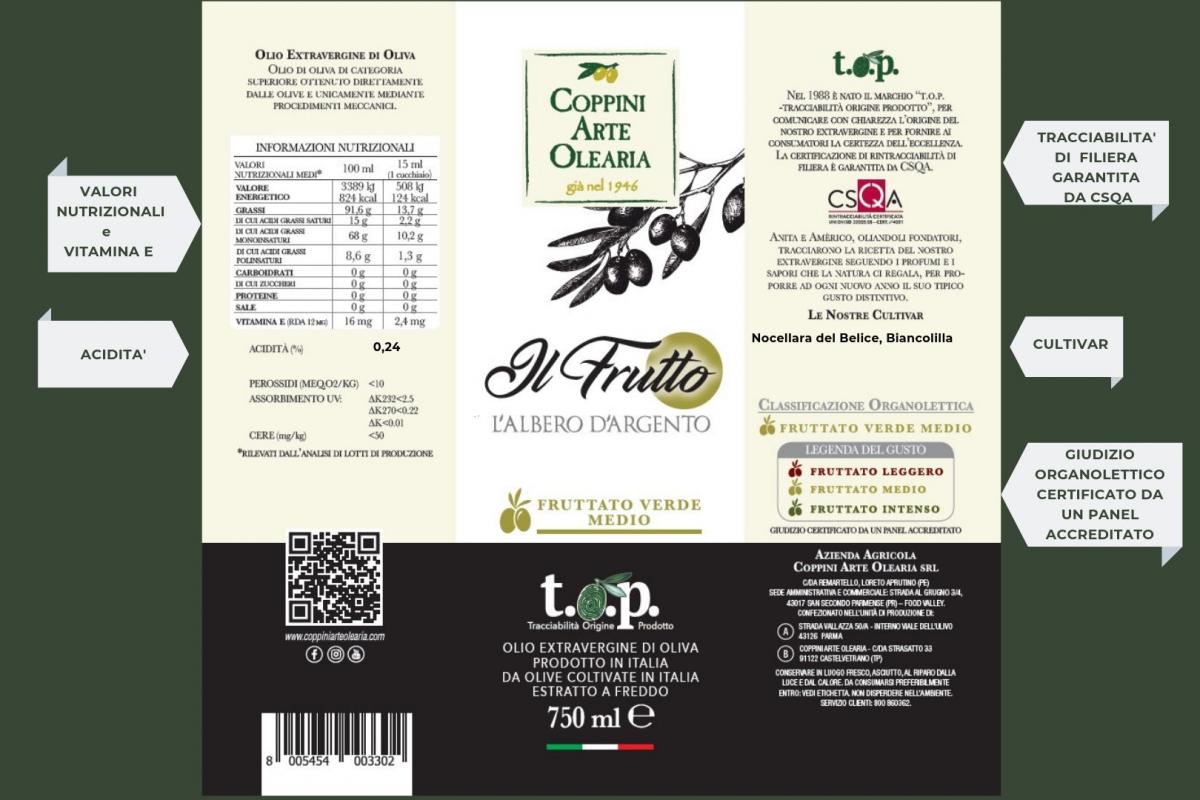 EXTRA VIRGIN OLIVE OIL TRACED FROM THE OLIVE TREE TO THE TABLE
Sincerity. The relationship that Coppini Arte Olearia has always established with those who feed on its products is based on this principle. All the authenticity of the care and attention put into production, from olives to the finished product, is guaranteed by the supply chain traceability certification and by the Identity Card , which we were the first to introduce and place our precious oil on each bottle.
AN EXTRA VIRGIN OLIVE OIL WITH AN ID CARD
Since 1992 on the labels of Coppini Arte Olearia , all the data relating to the extra virgin olive oil bottled have been declared. A hymn to clarity, which illustrates the organoleptic classification certified by an accredited panel , the different cultivars, vitamin E. Fruity aromas already dear to Anita and Amèrico, colors and fragrances that inebriate every sense. p>
A Taste Legend indicates the different intensity of fruitiness: intense, medium, light The cultivars used are indicated The quantity of vitamin E and the level of acidity are indicated It is declared that the oil is extracted cold It is indicated that our extra virgin olive oil is produced in Italy from olives grown in Italy
WHAT IS THE t.o.p. MARK
Extra virgin olive oil is one of the most counterfeit food products. Our oil is really all Italian extra virgin olive oil and with the "t.o.p." - Product Origin Traceability - affixed to bottles since 1988, the company certifies its excellence and genuineness, far anticipating the European rules on food labeling and mandatory origin. Reliability, precision and accuracy: tracing the origin of the product means checking every step of the production chain. Choose the best raw material, follow the olive from its harvest through the expert hands of olive growers and accompany it on the table of its consumers: for Coppini Arte Olearia this means standing out.
The certification of traceability of the supply chain is guaranteed by CSQA.
Coppini Arte Olearia extra virgin olive oil is pure, transports you to a genuine and natural world, smells of life.